TSI specializes in objectively assessing an organization's critical business, financial and operational systems.  Our technology assessment projects often include: Finance and Accounting, Customer Relationship Management (CRM), Enterprise Resource Planning (ERP), Materials Requirements Planning (MRP), Product Lifecycle Management (PLM), Human Capital Management (HCM) and other key package software and custom or legacy systems and applications.
In simple terms, your organization has outgrown the existing technology, perhaps just like you might have outgrown your "starter house".
As you may have learned recently, enterprise, financial, CRM and related technology has changed rapidly in many ways.  Ranging from the introduction and maturing of SaaS and Cloud-based products to the convergence of social media and enterprise software, functionality is increasingly becoming more robust, and in some ways, simple, and other ways more complex.
Defining what is really needed to support the business now and in the future, in contrast to "bells and whistles" features is often a complicated task, even for people who know their business well.  Additionally, a  number of software companies have been on an acquisition binge while others are on a survival mission.  These trends make the challenge of selecting the right software package even more daunting.
What functionality does the business really need?   Is it Accounting software, a full blown ERP package, and should you include CRM, SCM, e-commerce or other extensions?  In technical terms, how well integrated are the modules and what does this mean for your IT organization?
Technology Assessment Projects
Without bias and with our client's needs in mind, we typically begin a technology assessment by factually and clearly answering some key questions:
Is there a legitimate case to change systems?  If so, what are the costs and benefits to go, or remain on an existing technology infrastructure (as well as define scenarios that consider some of each)?
Given the strategic direction of the organization, are the current systems suitable to take an organization where it desires to go?
If your organization is on an old AS/400, UNIX or Mainframe systems developed decades ago, what does it cost to support this system?
What are the risks?  How agile is your organization with this system?  Are there opportunity costs?
If your organization is considering moving away from this legacy system, what is the process of moving to a package software solution?
What are the pros and cons of moving to the cloud?
What about the trade-offs between industry specific packages (that might have a fairly small install base) versus larger, potentially more generic software packages?
Often TSI's work can begin with a short (1-2 weeks or so) effort to investigate the current systems, interview key stakeholders and answer these questions and develop a Business Case Analysis (to determine what the potential costs, benefits, risks and implementation timeframe).
Since TSI does not have software to sell, it does not have a conflict of interest to fabricate a business case involving the acquisition of software if tangible benefits do not truly exist.
ERP Software Evaluation and Selection
TSI performs dozens of vendor evaluations and technology assessments each year.  Unlike most consulting firms, TSI does not have a financial relationship with ANY software vendor.  We are 100% objective and we have never received any referral fees or commissions from software vendors.  As a result, our only bias is for the best representation of our client's interests.
Based on our experience, if your organization is looking at adding or replacing existing software it is likely because:
Some critical aspect about your "business model" (e.g. new competitors, customer needs or regulatory changes, recent acquisition) has changed resulting in a gap between how your organization needs to operate and what capabilities the legacy software supports.  As a result:
Management lacks the analytics and insights that should foster better, faster decisions.
Staff productivity is constrained by spreadsheets and manual/paper-based processes that lack automation and scalability.
Technology is dated or no longer supported by the vendor; as a result you are forced to change or add new software.
TSI helps organizations make the right selection decision for new business software by guiding them to answer the following questions:
What is truly unique about your organization (your business model, current and likely future requirements)?
What should your business processes be, and how can the software package capabilities be used as an enabler?
What do you want to achieve as a result of implementing new software?
What packages should be considered?
What change management topics need to be considered?
Clients turn to TSI for assistance because we have no financial arrangements with any software vendor and we do not have a consulting practice dependent on implementing specific packages.
Our objectivity allows us to orchestrate the evaluation process as the "client's advocate" while at the same time guiding the software vendors to demonstrate what our clients need to see.
We help define the key scenarios that represent your unique and/or complex requirements and we help develop incisive questions that will help you differentiate vendor solutions.  We look to focus on how processes can be simplified, automated, standardized where needed and to ensure that complex processes can be supported through flexible, configurable and integrated solutions.
In addition to our experience in knowing which vendors to evaluate based on your needs, TSI adds significant value by:
Providing "boilerplate" or starting point lists of requirements;
Rapidly defining and reviewing your current and future requirements so your requirements are reflective of how you want your processes to function, not solely how things work today;
Objectively evaluating software vendor demonstrations;
Removing much of the burden of defining the processes, requirements and sifting through a myriad of vendor options;
Assessing software vendor performance to make the best decision for your organization;
Fostering "buy in" from the subject matter experts at your organization;
Assisting during the implementation phase, depending your resources and needs, with project management, technical implementation, change management and use case/test case support.
Remember, an Ounce of Selection is worth a Pound of Implementation.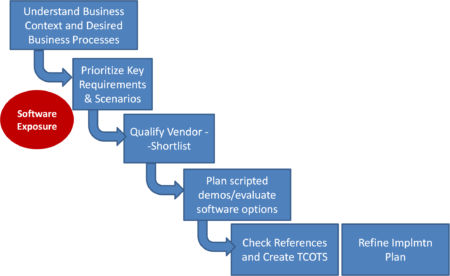 TSI works closely with our clients to define forward-looking, process-centric requirements as the basis for a fact-based software evaluation for a new Financial, CRM, Order Management or Enterprise/ERP, EMR/EHR or Student Information System.  Our clients tells us we take a very complex and time-consuming endeavor and make it understandable, objective and accurate while speeding the process up.
TSI has reviewed and evaluated the following software packages recently:
Acumatica
Aptean 
Consona Corporation
Epicor
Exact Software
FinancialForce.com
Industrial and Financial Systems (IFS)
Infor Global Solutions
Intacct
Oracle
Microsoft Dynamics
Pegasus Software
Plex Systems
QAD, Inc.
Sage Group
SAP
SysPro
Unit 4
Workday, Inc.
Your Next Step
Leverage TSI's expertise in Technology Assessment for a single, specific area needing improvement, to an entire technology overhaul. Contact our team to start a conversation to see if we can assist.